Liederbuch: Glory to God!
Glory to God!
Gospel liturgisch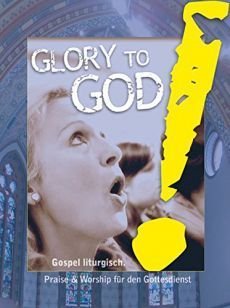 Erscheinungsjahr: 2014
Die neue umfangreiche Materialsammlung zum gemeinsamen Singen mit Chor und Gemeinde im Gottesdienst. Neues und Bewährtes aus dem liturgischen Kontext wurde für diese Ausgabe von zahlreichen Komponisten, Arrangeuren und Chorleitern zur Verfügung gestellt. Mit Rufen, Wechselgesängen, Kanons und Versen in Gospel- und Popstilistik. Einfache, aber raffinierte Songs laden in unterschiedlichen Besetzungen zum Mitmachen ein: von a cappella bis zum begleiteten Satz, auf deutsch, englisch oder im Originaltext.
48 Lieder sind online in der Datenbank vorhanden.
Liederbuch bestellen
Inhaltsverzeichnis
Nr.
Liedtitel
Text / Autor
1
Come, holy spirit we need you

Joachim Dierks

2
Let the Praise Begin

Micha Keding

3
Der Herr sei hier

Niko Schlenker

(2014)
4
In your presence (we wanna be)

Peter Hamburger

5
God Give Your Spirit

Maren Seyboldt

(2014)
7
In your name we are here

Helmut Jost

(2010),

Ruthild Wilson

(2010)
7
Herr, wir beten dich an

Helmut Jost

,

Ruthild Wilson

(2010)
8
Proem (Grace and Peace)

Jeff Guillen

(2013)
9
Yes, the Presence of the Lord

Unbekannt

10
God is mercy, God is love

Joachim Dierks

(2014)
11
May the Fragrance of Jesus

Graham Kendrick

(1986)
12
Now Let Us Sing

traditionell

13
I want to praise You

Stephan Zebe

(2014)
14
Gabi, Gabi (Gott ist gut)

Wolfgang Richter

(2014)
15
Kumbaya (Kum ba yah, my Lord)

Spiritual

16
Your Word Is a Lamp

traditionell

18
Praise Be to the Lord

traditionell

19
The Lord my God my shepherd is

Francis Blend Tucker

(1985)
20
Sing, O My Soul

traditionell

21
Ehr sei dem Vater und dem Sohn (Gloria Patri)

Liturgie

23
Glory Be to the Father

traditionell

24
Glory to the Father

traditionell

29
Herre Gott, erbarme dich

traditionell

31
Jesus Christ, Light of the World

traditionell

33
Kyrie, Herr, erbarme Dich

traditionell

38
Allein Gott in der Höh sei Ehr

Nikolaus Decius

(1523)
39
Glory to the Lord in the Highest

Micha Keding

40
Ehre und Herrlichkeit sei Gott in der Höhe

Aus der Bibel

41
Lift him up higher and higher

Joachim Dierks

(2014)
42
Gloria Hallelujah

Jeff Guillen

(2005)
50
Latino-Halleluja

Friedemann Wutzler

(2013)
57
Revelation Song (Halleluja, salvation and glory)

Unbekannt

59
Jesus Your Are My Saviour

Reinhard Pikora

61
Come On, Let's Go, Let's Celebrate

Steve Ogedegbe

63
Worship Song (Lord we lift you up)

Niko Schlenker

(2010)
65
Let us break bread together

Spiritual

66
We Are Gonna Sit

Reinhard Pikora

69
Holy is God. Holy his son.

traditionell

75
Christe, du Lamm Gottes

Braunschweig

(1528),

Martin Luther

(1528)
76
Lamb of God you take away

traditionell

79
He Has Done Marvellous Things

Unbekannt

80
Stay with me, oh Lord

traditionell

83
Verleih uns Frieden gnädiglich

Martin Luther

(1529)
84
May the Lord send angels

Ruthild Wilson

(2001)
85
God will bless you

Joachim Dierks

86
Go With Peace (Blessing)

Jeff Guillen

(2013)
87
Peace shall be with you

Ruthild Wilson

(2010)
94
Amen, I Say Amen

Niko Schlenker

(2014)